Any song from almost any device
What devices pair with the SoundLink Mini II? Smartphones and tablets. Or your friends' smartphones and tablets. If it's a Bluetooth device, you have all you need for any song you want to hear. And it remembers the last 8 devices used, so it's easier to reconnect and pass around the DJ controls. With a reliable range of about 30 feet, you can enjoy all that premium sound without wires.
ENGINEERED TO TRAVEL
Small, portable speakers aren't typically known for powerful performance. But SoundLink Mini II isn't your typical Bluetooth speaker. So, what's the key to making something this small sound this big? Exclusive technologies that really bring it.
DUAL PASSIVE RADIATORS
These deliver surprisingly deep low notes and face in opposite directions to minimize vibrations.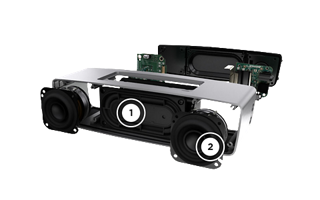 Better by design
The SoundLink Mini II speaker is designed for sleek simplicity. Its single-piece aluminum casing is durable and ultra-compact. You can control it from your Bluetooth device, and it features a built-in microphone for taking calls and accessing Siri or your Google Assistant.
SPECS